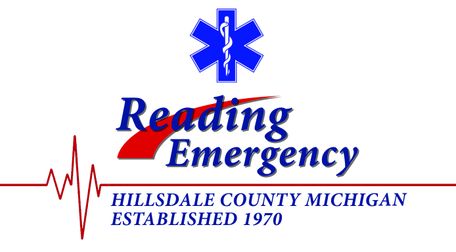 Reading Emergency Unit
30 Monroe Street
P.O. Box 268
Hillsdale, Michigan 49242
Ph. (517) 283-2856
Fax (517) 283-3145
Welcome to  our Career Center!
Welcome to our career center and for considering Reading Emergency Unit for your employment needs. For your convenience we have incorporated both downloadable and online application forms.

Please note:  ALL forms, supporting documentation and signature pages MUST BE COMPLETED TO BE CONSIDERED FOR EMPLOYMENT!
Thank you.
Directions for downloadable version
Please note:
Submission of downloadable application and supporting documents can be submitted via:

U.S. mail:
Reading Emergency Unit, Inc.
Attn: Human Resources Department
P.O. Box 268
30 Monroe Street
Hillsdale, Michigan 49242

Fax: (517) 283-3860

Email: jeanm@readingemergency.com
REU Employment Application.pdf
Adobe Acrobat Document
5.6 MB
Online Submission
Upon submitting the online version, All signature pages and supporting documents MUST be submitted via email: jeanm@readingemergency.com OR fax: 517-283-3860. Thank you.
Online Employment Application
Please note: All areas with an asterisk are required fields.

APPLICATION FOR EMPLOYMENT
Reading Emergency Unit considers applications for employment without regard to race, color, national origin, ancestry, religion, sex, age, disability, belief, military service, or any other protected class. Reading Emergency Unit IS A DRUG-FREE WORKPLACE.
Authorization to Release Information
This section must be completed to be considered for employment
I hereby authorize Reading Emergency Unit to investigate my personnel history to verify and obtain information concerning my employment, education or criminal history, as well as my financial and/or credit records, and auto/driving records, with any individuals, companies, bureaus, private or governmental agencies, institutions or any other information source.
I hereby authorize any individuals, companies, bureaus, institutions or agencies to release such information as you require, including my prior disciplinary employment record, without any obligation to give me written notice of such disclosure. I also authorize yo to release any information requested by any of my prospective employers without any obligation to give me written notice of such disclosure. I hereby release you and them (all information sources) from any liability whatsoever as a result of any inquires or disclosures.